When there are many wonderful places to visit in Mount Abu, it's difficult to know where to begin. Mount Abu is the only hill station in Rajasthan and believe it or not, it is a beautiful place set on a rocky plateau in the Aravalli range of mountains and surrounded by the forest. It offers you a calm and soothing climate and mesmerizing panoramic views. There are so many sightseeing places that attract tourists.
It is an ideal weekend getaway for leisure travelers as well as honeymoon couples. Usually Monsoon is the best time to visit there but if you see it another way, you can go there anytime throughout the year.
Following are some of the well known and most popular tourist places in Mount Abu that should be in your top priority list for your next trip to Mount Abu.
Nakki Lake :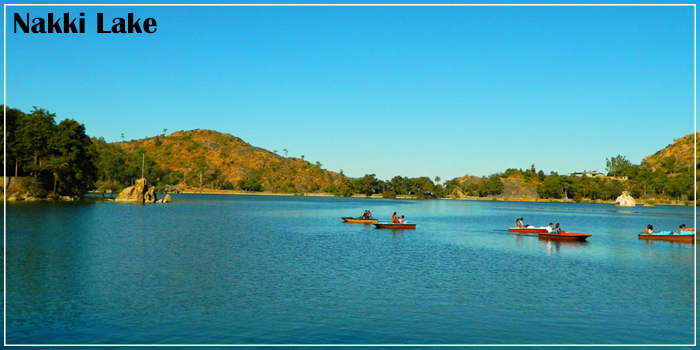 Located in the Aravalli mountain ranges in Mount Abu, this Lake is locally popular as the Nakki Jheel and it is a true paradise for nature lovers. This lake is really a true gem for Mount Abu, as it is the very first man made lake in India with a depth of approx 11,000 meters and width of quarter a mile.
Situated in the heart of Mount Abu, this beautiful lake is surrounded by lush green plants and trees, different sizes of rocks as well as some mountains. It is a perfect place for nature lovers, honeymoon couples and photographers. Sailing through the lake in the evening while the sun is setting in the sky miles away, is a picture that will never fade off from your memories.
Dilwara Temples :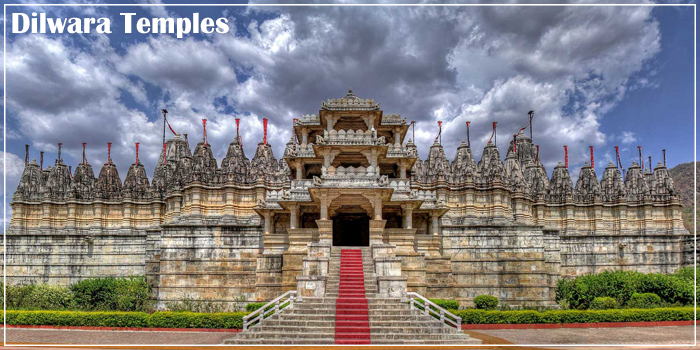 These are a group of Jain temples situated approx 2.5 kms away from the Mount Abu settlement. It was built by Vimal Shah and designed and financed by Vastupala, who was the Jain minister of Dholka. It was built between the eleventh and sixteenth centuries.
They are very famous for their pure white marble and intricate marble carvings. It is a pilgrimage place for Jain people and also a very famous tourist attraction place. Although there are many other Jain temples in Rajasthan, but these temples are believed to be the most impressive ones.!
Sunset Point :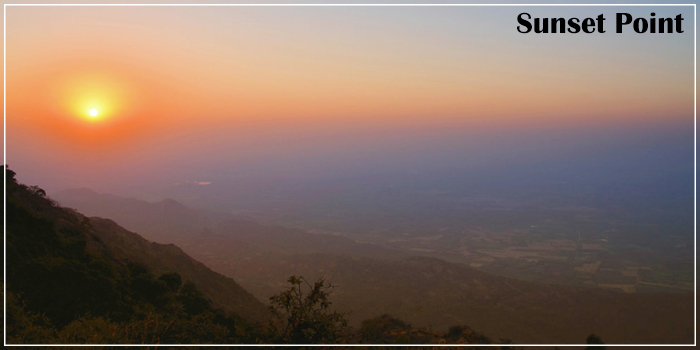 Sunset point is a mesmerizing place near Nakki lake that has all the pleasures of this world delivered to your heart. This place offers the gorgeous views of sunkissed green hills with radiating sun rays.
It is a place for retreat in the glory of the golden rays of setting sun for all the nature lovers. Your mind will definitely blow off once the magic of the sunset unfolds itself by making the surroundings even more refreshing and embracing you in its warmth.
Achalgarh Fort :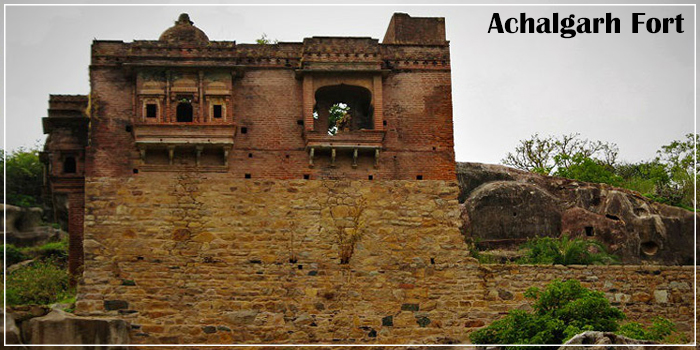 Achalgarh fort is located approx 11 kms to the north of Mount Abu, the only hill station of Rajasthan. It was originally built by the Paramars rulers and later constructed and renovated by Maharana Kumbha and named as Achalgarh in 1452 CE.
Guru Shikhar :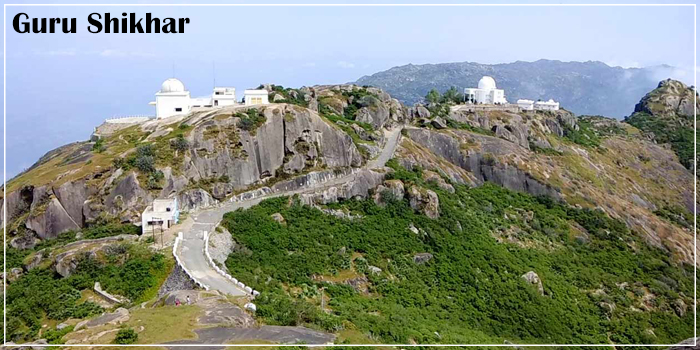 Gurushikhar – A peak in the Arbuda Mountains of Rajasthan, is the highest point of Aravalli Mountain Range. It is situated at the elevation of 1,772 meters of height and 15 kms away from the heart of Mount Abu city center.
It is named as Guru Shikhar as it is the peak of the guru Dattatreya, who was an incarnation of vishnu. There is a cave on the summit of the mountain that contains a temple dedicated to him. It is a great place for photography lovers.
Brahmakumaris Peace Park :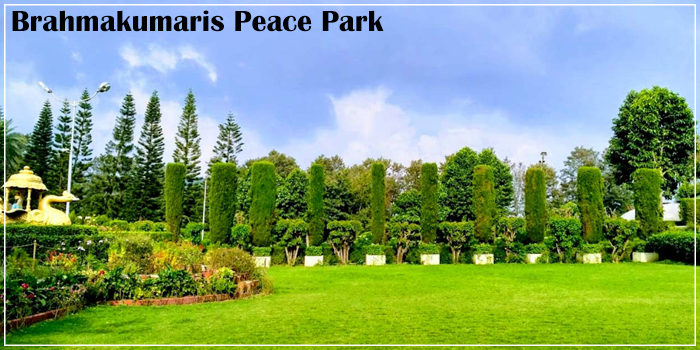 Located 8 kms from the Mount Abu bus station, this Brahmakumaris peace park is a spiritual establishment situated on Guru Shikhar Road of Mount Abu. It is a lovely and serene place and a perfect escapade from the hectic urban life routine and find peace of mind in calm and soothing ambiance. It is situated between the two mountain peaks of Aravalli hills that is Guru Shikhar and Achalgarh.
Trevor's Tank :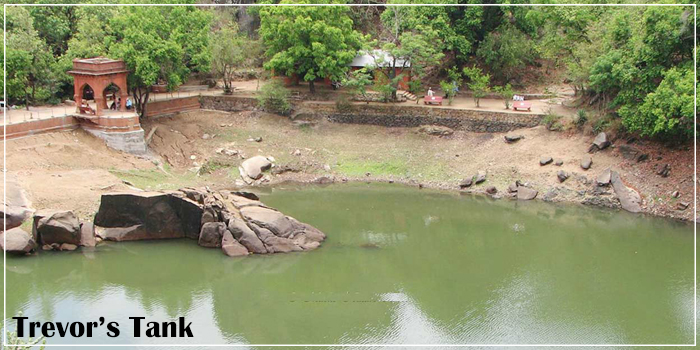 This is a picturesque location and just 5 km from the main city center. It is Mount Abu's one of the most popular tourist destinations. This place is a paradise for nature lovers and named after the British engineer who had built it.
This is a man made tank, used to breed crocodiles and a must visit place for all the leisure travelers of Mount Abu. It is also very famous as a picnic destination of Mount Abu for tourists as well as the localities.
Toad Rock :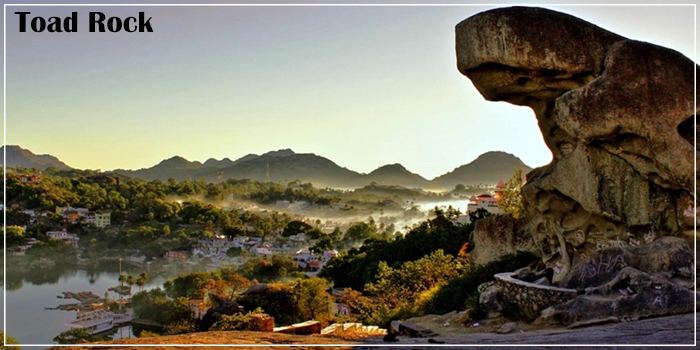 Situated on the south side of the Nakki lake, this colossal rock piece looks like a toad that is about to jump into the water of the Nakki lake. It is also popular as the mascot of Mount Abu.
This place is the most frequently visited and a must in the itinerary of all the travellers. If you are climbing up the rock, you can capture the breathtaking panoramic beauty of the surrounding Nakki lake and the lush green hills.
Mt Abu Bazaar :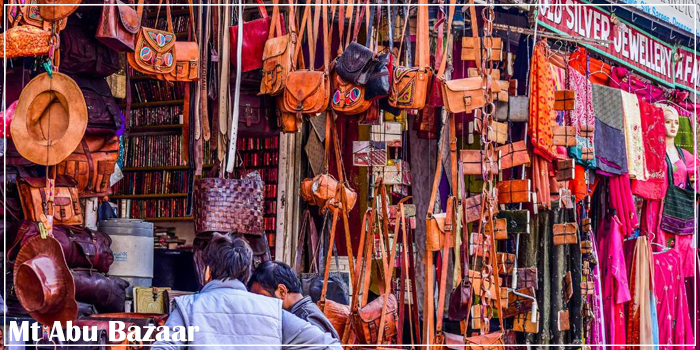 Mount Abu's local street market is very famous for it's different varieties of beautiful handicrafts such as kota sarees, Jaipuri quilts, lakh bangles, linens, various marble and sandstone products are the ones that make this market a vibrant place!
Apart from these products, you can also find the traditional Rajasthani handicrafts, paintings as well as leather products and some of the Gujarati artworks, traditional accessories, unique ethnic wears are the main attractions of this local market.
Honeymoon Point :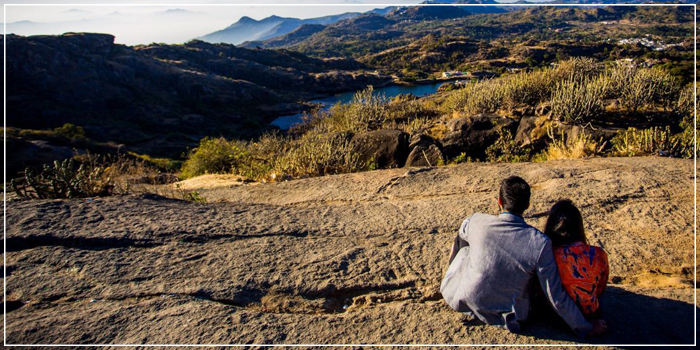 This particular place is very famous among honeymoon couples and thus it is named as the honeymoon point. Located at the elevation of approx 4000 ft, this place offers an exquisite view of the sunset and the evening view of sky painted yellowish red.
It is also known as the Anandara point and considered as the best spot to unwind yourself after a long and tiring day of your travelling. In the backdrop you can see the beautiful Nakki Lake along with a sun setting down at a distance and a cool breeze brushing your hair while you are gazing at the endless horizon.
Sheratone – A Luxury Hotel In Mount Abu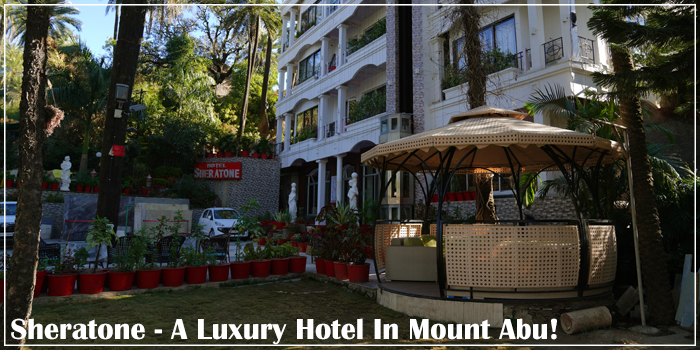 There are so many hotels and resorts in Mount Abu that are always ready with exciting Mount Abu group packages. Hotel Sheratone is one of the finest luxury hotels in Mount Abu that offers you the uncompared hospitality services along with the most comfortable stay in the heart of Mount Abu.
Even if you are planning a trip with your family, friends, or planning your honeymoon, Hotel Sherataone has the customized Mount Abu hotel packages suitable for one and all.
For more information regarding bookings or any other queries please visit our website or call us on 6377820265